Book Online or Call us 24/7:
1-877-204-8337

Survey
The Most Expensive Neighborhoods in New York City
October 6, 2014
Lenox Hill has just distinguished itself as Manhattan's most expensive neighborhood in terms of its cost of lodging. A new survey compiled by NewYorkHotels.org came to this conclusion after comparing the hotel rates of 20 New York City neighborhoods this October.


The survey specifically established the average minimum amount a hotel guest in each NYC district can expect to spend this autumn for the least expensive double room. For comparative purposes, the month of October was chosen. This also happens to be the month during which hotels in New York reach their highest average rates. In coming up with the rankings, the survey excluded hotels that had less than a 3 star rating.


Topping the list is Lenox Hill. Situated in the lower section of the Upper East Side, Lenox Hill borders Midtown Manhattan. Here, autumn visitors can anticipate paying a minimum of $374 nightly for a double room. Taking the number two spot on the survey is the West Village. Nestled between Chelsea and Hudson Square, the West Village is averaging $339 per night this October. Rounding out the Top 3 is the Tribeca neighborhood in Lower Manhattan. With an average overnight price tag of $298 for the most affordable double room, Tribeca landed in the survey's third spot.


Following is a comparison of hotel rates in 20 New York City neighborhoods. The rates indicated reflect the average rate guests will have to spend, on average, for the cheapest available double room in each district during October 2014. Only such hotels rated 3 stars or better have been considered for this survey. Rates were established on September 26, 2014 via a hotel comparison engine.


1. Lenox Hill $374
2. West Village $339
3. Tribeca $298
4. Upper East Side $296
5. Midtown East $286
6. Upper West Side $284
7. Times Square/ Theater District $283
8. SoHo $281
9. Lower East Side $278
10. Garment District $276

11. Chelsea $275
12. Hells Kitchen $267
13. Murray Hill $264
14. Rose Hill $262
15. Financial Disctrict $237
16. Downtown Brooklyn $221
17. Long Island City $118
18. Flushing $153
19. La Guardia $149
20. JFK Airport $141

Press Contact: Danielle Carter, press@newyorkhotels.org
Find Hotels by Location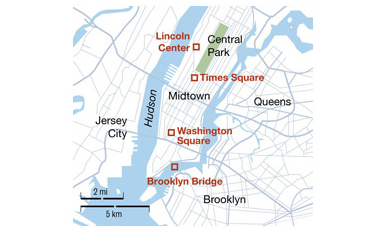 Neighborhoods in NYC
Landmarks in NYC
Destinations in NY/NJ State