Book Online or Call us 24/7:
1-877-204-8337

Survey
New York City Hotels Jack up Rates 788% for New Year's Eve
December 27, 2012
New Year's Eve revelers who want to ring in 2013 in New York City's Times Square better steel themselves for last-minute sticker shock at the hotel check-in counter. A new survey from NewYorkHotels.org has December 31 hotel vacancies still exist, but waiting until the last minute will cost bookers substantially.


Indeed, approximately 30 Manhattan hotels are still posting available rooms for New Year's Eve. As a caveat, however, most are requiring guests commit to a minimum two-night stay. The average rate increase at these establishments is 189% more than usual. When only 2- and 3-star hotels are taken into consideration, that increase rises to an even heftier 278%.


Thanks to its enviable New Year's Eve locale one block west of Times Square, The Milford is one of the biggest price-gouging offenders. On December 31, guests can expect to pay $659 for a single-night stay. Compared to the typical rate of $114, they're looking at a 478% price increase. But the Lower East Side Hotel 91 is taking advantage of New Year's Eve celebrators even more. Normally, this establishment charges $105 nightly, but on December 31 its going rate is $933. That figure represents a 788% hike.


For a New Year's Eve only stay, the cheapest available room currently costs around $450. Revelers who stay two or three days will find a bit more financial breathing space with rooms starting at $300 nightly. Travelers on a budget do still have some hope of spending New Year's in NYC. If they don't mind a bit of a hike into the city, they can check out the JFK Airport environs. Rooms here can be had for $200 per night.


The following table shows the 10 hotels with the biggest rate increases for New Year's Eve in New York City. For comparison purposes, average rates for the same rooms in January were established and determined as Regular Rates. All rates were established December 26 via the leading hotel-booking sites.


| | | | | |
| --- | --- | --- | --- | --- |
| Name of Hotel | Room Type | Regular | Dec 31 | Increase |
| | | | | |
| The Hotel 91 | Standard Room | $105 | $933 | +788% |
| The Milford | Standard Room | $114 | $659 | +478% |
| Off Soho Suites Hotel | Deluxe Suite | $179 | $932 | +420% |
| Stay NYC | Standard Room | $129 | $669 | +419% |
| Tribeca Blue Hotel | Deluxe | $139 | $709 | +410% |
| Hotel Pennsylvania | Superior | $132 | $651 | +393% |
| Marriott Marquis | Deluxe | $279 | $1199 | +330% |
| Hilton Garden Inn Times Square | Queen | $199 | $799 | +301% |
| Hampton Inn Manhattan Soho | Standard Queen | $203 | $799 | +293% |
| Wingate Manhattan Midtown | 2 Doubles | $214 | $800 | +274% |
Find Hotels by Location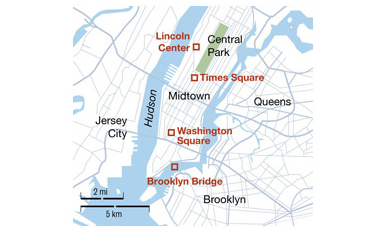 Neighborhoods in NYC
Landmarks in NYC
Destinations in NY/NJ State