Book Online or Call us 24/7:
1-877-204-8337

Survey
SoHo Most Expensive of New York City's Neighborhoods
November 13, 2012
The SoHo neighborhood of Manhattan is the most expensive one to stay overnight in. A new survey compiled by NewYorkHotels.org found that SoHo's hotel rates are currently higher than anywhere else in NYC. The month of October 2012 served as the basis of comparison in coming up with the list.


A hotel stay in SoHo, whose boundaries more or less include Houston Street to the north, Lafayette Street to the east and Canal Street to the south, set Big Apple visitors back an average of $283 this October. And that was for the cheapest available 3-star room. Not far behind in second place was the Chelsea neighborhood at $279 nightly. Nipping at Chelsea's heels, the Financial District ranked solidly third. There the overnight rate averaged $267.


Murray Hill and Hell's Kitchen, on the other hand, proved much more affordable options. At an average cost of $214 and $212 respectively for the cheapest available 3-star hotel, they were the two least expensive New York City districts in which to stay.


Those travelers who are content with lodging in a 2-star hotel will find the most affordable rates in the Upper West Side. There, an overnight stay will cost them an average of $179 per night according to the survey. To score a much cheaper room, they'll have to be willing to venture outside of Manhattan. A 2-star hotel in the vicinity of JFK Airport, for instance, averaged only $101 nightly.


Following are Manhattan's various districts ranked according to their average rate for the cheapest available double hotel room. October 2012 served as the time period for comparison. Only hotels scoring a 3-star rating or higher were considered in this ranking.


Inside Manhattan
Min: 3 stars
Min: 2 stars
Min: 4 stars
Sohu
$283
$249
$389
Chelsea
$279
$234
$312
Financial District
$267
$242
$284
Garment District
$264
$194
$298
Times Square
$254
$224
$282
Upper East Side
$253
$249
$289
Upper West Side
$246
$179
$325
Rose Hill
$242
$189
$303
Lower East Side
$224
$202
$379
Midtown East
$222
$222
$298
Murray Hill
$214
$212
$321
Hells Kitchen
$212
$212
$314
Outside Manhattan
Min: 3 stars
Min: 2 stars
Min: 4 stars
Brooklyn
$187
$123
$321
Long Island City
$175
$117
$216
JFK Airport
$142
$101
N/A
La Guardia Airport
$122
$112
N/A
About the Methodology
The survey was conducted in September 2012. For 16 neighborhoods in New York City, the price for the cheapest available double room (minimum 3 star hotel) was established for the following periods: October 2-4, 12-14, 16-18 and 26-28. Based on this data, an average price was calculated for each neighborhood. The survey was re-conducted twice, once with all hotels rated a minimum of 2 stars and second only with those accommodations rated 4 stars or above.


Find Hotels by Location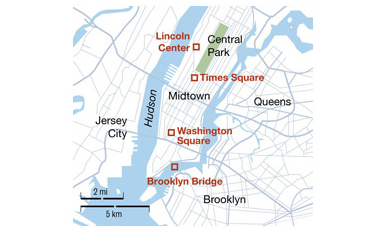 Neighborhoods in NYC
Landmarks in NYC
Destinations in NY/NJ State